Carnatic music is part of rich tradition of Indian music and several stalwarts have left indelible impact on the emergence of the music as one of the most popular forms of Indian music. "Carnatic" is a word derived from "Karna-ananda" some thing which is pleasing to the ears and it is truly a system that has enchanted people for generations.
The basis of Carnatic music is the system of ragas (melodic scales) and talas (rhythmic cycles). There are seven rhythmic cycles and 72 fundamental ragas. All other ragas are considered to have stemmed from these. An elaborate scheme exists for identifying these scales, known as the 72 Melakarta Ragas.
Carnatic music abounds in structured compositions in the different ragas composed by great artists and handed down through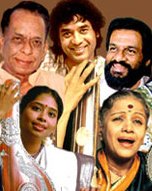 generations of disciples. While the improvised elaboration of a raga varies from musician to musician, the structured portion is set. These compositions are extremely popular, with a strong accent on rhythm and lively melodic patterns.
Three saint composers of the nineteenth century, Tyagaraja, Muthuswami Dikshitar and Shyama Shastri, have composed thousands of songs that remain favourites among musicians and audiences.
Modern artists such as the late M S Subbalakshmi, and popular current legendary artists such as Bala Murali Krishna and Jesudas have made rich contributions to the carnatic music system.